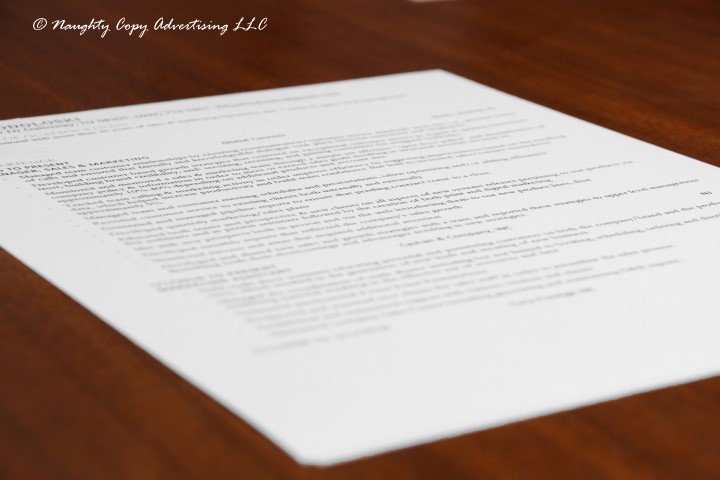 Resume Writing:

Resume writing is a unique form of writing that should consist of the following:

1) Legibility: In today's job market employers and hiring managers have more than one resume to sort through and your goal is for them to be able to easily absorb as much information as possible in as little time as possible. In other words, you need your resume to be easily read/scanned.

2) Well written & error free: Your resume should be error-free & well written, which means that your resume's writing should at the very least reflect your level of education and work experience.

3) Unique and tailored to the position you are applying for: Ideally your resume should be written specifically for the job/ad you are applying for because it stands a significantly higher chance of containing what potential employers are looking for in an applicant. Alternatively if this is not an option, a generic/general resume that may appeal to most employers is recommended (adjusting/tweaking a generic resume is also possible, but does not compare to a targeted resume written specifically for a particular position & company).


4) Layout and design: nothing fancy unless you are applying for a job that requires it, but even then you should let your portfolio speak for itself and let your resume demonstrate that you are professional despite being a "creative," e.g., graphics designer, art director, etc. In other words, a clean and simple chronological resume is ideal (preferably no more than one page). On a final note, we have the skill and know how to make a one-page printable resume still have a ton of information since 95% of the time your resume will not be printed and simply read as a PDF.


• Cover Letter & Resume $180.00 - $520.00

• Resume $120.00 - $400.00

Click Here for Cover Letters

Click Here to Contact Us
Process:


1) Questionnaire: download & complete our comprehensive questionnaire. In this step, you will provide us with: your current resume, the particular position or general position you are applying for, etc.

2) Interview Process: A brief interview via e-mail or phone to learn about you and your work experience and clarify any questions we have.

3) Cover Letter Optional (recommended): click here for more information

4) We will e-mail you a draft, let us know if we need to make any corrections, or if there is anything you would like to add.

5) Final resume sent via e-mail in PDF and Word format.


Naughty Resume Process
We have edited and rewritten hundreds of resumes and cover letters from our competitors, so we are confident that we will not waste your time or money. The reason why our cover letters and resumes are so much better is that we spend more time learning & understanding who you are and what your goals are relative to a cover letter/resume. This difference is the missing link other professional resume writers lack, not to mention we are excellent writers.

Source Material/Authenticity: Please note that your resume can only be as good as the source material you provide us, so prepare yourself for our interview and answer our questionnaire completely (do not lie about or exaggerate any information). Yes, this will require you to do some work and some self-reflection, but it will also help you prepare yourself when you are called in for an interview. We suggest you do not fabricate information for your resume and cover letter since you will be asked interview questions based on your cover letter and resume (so keep it truthful).
Cost: